New Noob Mommy Long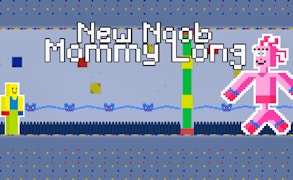 New Noob Mommy Long
Description
In New Noob Mommy Long, you play the part of a noob navigating through ten levels of intense gameplay. Outrun your antagonist, Mommy Long, while overcoming various obstacles that might thwart your escape. Failure to avoid them could lead to your capture and ultimately defeat. The game boasts an immersive pixelated environment that adds to its charm.
How to Play
Accelerate and navigate using the keyboard to escape from Mommy Long's clutches. The game controls are very user-friendly and responsive, ensuring smooth navigation through the levels. Continue running, as stopping would risk being caught by Mommy Long. Each level gets progressively difficult, requiring enhanced skill and concentration.
Tips and Tricks
The key to this game is persistence. Keep running without pause to stay ahead of Mommy Long. Make sure to carefully time your jumps and movements in order to successfully overcome each obstacle you encounter on every level.
Features
Pixel-art style: Delivering a nostalgic retro gaming experience.
Ten challenging levels: Each with increasing difficulty for prolonged gameplay.
User-friendly controls: Ensuring smooth and responsive navigation.
What are the best online games?