Neon Block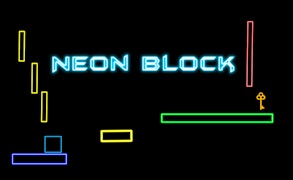 Neon Block
Description
In Neon Block, you navigate an ever-changing landscape of colorful neon blocks. This fast-paced, arcade-style game requires keen reflexes as you dart around obstacles in an attempt to escape into freedom. The thrilling game is a twist on classic block games, paired with a vibrant retro aesthetic that adds extra excitement to your adventure.
How to play
To control your neon block, simply tap the screen. Click and hold to make the block fly, and release to let it fall back down. Your goal is to avoid collisions with other blocks and keep flying. The game's challenge ramps up as you progress, requiring swifter reactions.
Tips and Tricks
While speed is crucial in Neon Block, patience can also be rewarding. Rushing can lead to errors, so take your time when possible. Carefully maneuver through narrower gaps using short taps, and save long taps for open spaces that require rapid ascending or descending.
Features
Vibrant neon aesthetic providing a memorable gaming experience
Addictive tap-based control system easy for any player to pick up
Cleverly designed levels that increase in difficulty as you progress
Retro arcade gameplay with modern twists for a unique challenge
What are the best online games?