Neon Blaster 2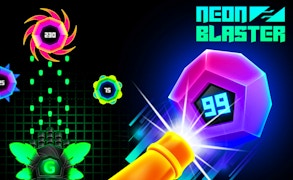 Neon Blaster 2
Once again, the exhilarating and electrifying world of Neon Blaster has returned with a sequel that's more vibrant, challenging and enjoyable than its precedent. Say hello to Neon Blaster 2, an action-packed skill game that will keep you on the edge of your seat, testing your number games prowess like never before. This sequel does more than just rehash elements from the first game - it elevates the entire experience to a whole new level.
Sit at the helm of a powerful cannon and embark on a mission to obliterate everything in sight in this action-filled universe. From the chaos and destruction rises a riveting gaming experience that'll have you gripped from start to finish.
The gameplay is meticulously crafted, weaving strategy and action together in an enticing package of thrilling battles in various mesmerizing neon landscapes. The upgraded cannon is especially delightful, providing a gratifying sense of power as you decimate your obstacles.
Apart from being an engrossing Action Game, Neon Blaster 2 also stays true to its roots as one of the best Skill Games. It takes your strategizing skills for a spin, demanding quick thinking, faster reflexes and a knack for number games to succeed. The combination of these elements make this game not only entertaining but also mentally stimulating.
In conclusion, Neon Blaster 2 is everything fans loved about the first game - only better! Harder challenges test your mettle, faster-paced gameplay keeps adrenaline pumping and fun is amplified tenfold! Truly, this sequel is poised to rule the world of action-filled number games.
This game embraces destruction unabashedly while unraveling layer after layer of intense gameplay. If you've got the skills and love for number games, then Neon Blaster 2 should be skyrocketing to the top of your gaming playlist!
What are the best online games?
Tags