Neon Blaster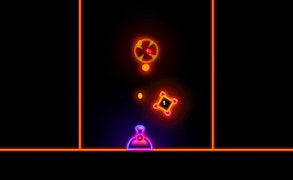 Neon Blaster
Prepare to blast your way into the neon-soaked cosmos with Neon Blaster, an electrifying addition to the world of Action Games. Excellently crafted to deliver fast-paced, strategic gameplay, this game sets itself apart in the crowded realm of Skill Games and Number Games.
As soon as you step into the vibrant world of Neon Blaster, you'll find yourself faced with a relentless barrage of blocks plummeting towards your base. With each crushingly powerful shot from your blaster, your pulse will race and your skills will be put to the ultimate test. It's not just about having a quick trigger finger; you'll need strategy, timing, and an intuitive understanding of numbers to conquer this game.
Neon Blaster shines not only because of its dynamic gameplay but also due to its unique upgrade system. The more enemies you obliterate; the more stellar upgrades you can make to your weapon. This mechanic introduces a strategic layer that elevates Neon Blaster from just another space shooting game to a competitive arena where victory is claimed by those who are both swift and smart.
This compelling game invites players to share their high scores on leaderboards challenging their friends – fostering a sense of community within the game. This feature only boosts its replayability quotient making it even more addictive.
In conclusion, if you're seeking edge-of-your-seat action paired with brain-teasing fun, then Neon Blaster is a must-try. Its combination of heart-racing action and number-crunching strategy offers a fresh twist on classic Skill Games and makes for an intoxicating mix that will have gamers coming back for more.
Vibrant visuals, adrenaline-pumping action gameplay, meticulously crafted levels with progressively challenging obstacles - all these make Neon Blaster stand out in the vast cosmos of online games. So hone your skills and get ready for a blasting adventure in this fantastic neon-bathed world.
What are the best online games?
TAGS