Nail Salon - Marie's Girl Games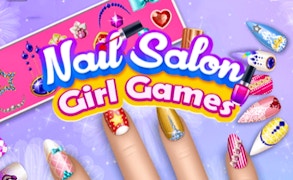 Nail Salon - Marie's Girl Games
Step into the vibrant world of Nail Salon - Marie's Girl Games, a delightful playground for the style-savvy gamer. This is not just another one of those run-of-the-mill Games for Girls, Nail Salon - Marie's Girl Games is an immersive journey into the captivating universe of nail art and design. Loved by kids and fashion enthusiasts alike, this game guarantees hours of crafting, creativity, and colorful fun.
As you delve deeper into this wonderland, you'll discover a spectrum of nail polishes, each more dazzling than the last. Crafting every manicure becomes an adventure in itself – a chance to experiment with new colors, patterns, and styles. Finished your masterpiece? Time to revel in the joy of accomplishment! Not only do you receive rewards for every manicure completed, but these rewards also pave the way for unlocking an exciting array of nail art stickers.
In a game that masterfully blends style with skill, it isn't just about slapping on a coat of polish. It's about letting your imagination run wild with unique designs that reflect your individuality. So whether you're perfecting your techniques or simply having some fun with Makeup Games, there's always something to look forward to.
If you're a fan of Fashion Games, Nail Salon - Marie's Girl Games will be right up your alley. It doesn't just stop at nails – there are style horizons waiting to be explored! Dive in for some chic fun as you unleash your inner fashionista and create stunning nail art that will have everyone talking.
To conclude, if vivacious colors and snug gameplay are what you are after, Nail Salon - Marie's Girl Games brings it all together in one package! Here is a virtual space where kids can dress up their nails in endless fun combinations; making it more than just a game – it's a creative canvas!
What are the best online games?