My Tiny Cute Piano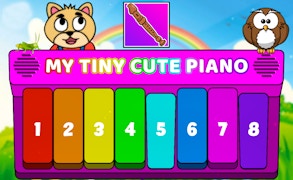 My Tiny Cute Piano
Description
Immerse yourself in the world of music with My Tiny Cute Piano. Tailored for your little ones, this game provides an engaging and immersive way to learn about piano keys and notes. Featuring vibrant graphics, charming characters, and delightful music themes, this game combines learning and fun into one. It's an endless source of entertainment that keeps children occupied while fostering their musical talents.
How to play
Playing My Tiny Cute Piano is as easy as ABC! Just tap on the different piano keys to make music. The intuitive interface has been designed specially for kids ensuring they effortlessly grasp note recognition. As they progress, the games increase in complexity with new music themes and characters being introduced, making every gameplay unique.
Tips and Tricks
For best results in learning notes, encourage your child to play regularly. Experiment with different characters and themes to make learning more enjoyable. Remember practice makes perfect! Use My Tiny Cute Piano as a handy tool for quiet time or a fun mess-free activity!
Features
Cute characters and vibrant graphics keep kids engaged.
Pleasant music themes make learning fun.
Fosters note recognition skills at an early age.
An endless mode of gameplay ensures new experiences each time.
Tried-and-tested tool for keeping the little ones quiet!
What are the best online games?