My Pretty Doll Dress Up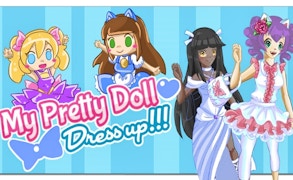 My Pretty Doll Dress Up
Immerse yourself in a world of style, fun, and creativity with My Pretty Doll Dress Up, an exciting entry into the realm of games for girls. This game is a fashionista's dream come true. It's a delightful mix of traditional dress-up games, trendy hairdresser games, engaging makeup games, and incredibly stylish fashion games.
If you've ever daydreamed about becoming a top-tier stylist surrounded by glitz and glamour, My Pretty Doll Dress Up transports you into that reality. With an array of clothing options and accessories at your disposal, the ability to mix and match to create the perfect outfit lies at your fingertips. From chic to casual; punk or princess styles - the options are endless in this fun-filled game.
The game takes you on a journey where fashion reigns supreme. You orchestrate style symphonies that can only be described as mesmerizing. Your digital models become beautiful butterflies under your styling prowess as you select the perfect dress, the right makeup blend and an exquisitely styled hairdo. All waiting for your creative touch in what rivals the best dress up games.
The beauty about My Pretty Doll Dress Up is that it stimulates creativity while developing aesthetic sense among its players. As one of the leading Hairdresser Games on offer, it lets players experiment with different hairstyles - from trendy bobs to flowing locks.
Your passion for makeup won't be left behind either! Included in our top picks for makeup games, this game allows players to explore different shades and colors to find the perfect match for their models. As part of the broader category - fashion games, it offers scores of different styles and trends for players to experiment with – let your imagination run wild!
In conclusion, whether you're pining after dress up games or seeking solace from hairdressing or makeup games, My Pretty Doll Dress Up is one game that checks all those boxes delivering fun, fashion-forward gaming experience.
What are the best online games?