My Manga Avatar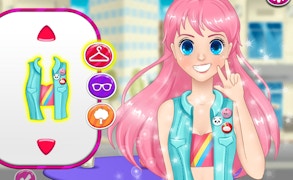 My Manga Avatar
Enter the captivating world of My Manga Avatar, an enchanting entrant in the realm of games for girls. This delightful game deftly combines elements of dress up games, hairdresser games, and fashion games, all bundled with a mesmerizing anime games flavour.
Basking in the sensational beauty of manga artistry, My Manga Avatar allows you to create a personalized avatar representing your unique style and persona. The game offers a meticulous range of features, from exploring colors and shapes to experimenting with bold hairstyles and expressive face features. With its boundless creative potential, this truly is an essential addition to your collection of fashion and dress-up games.
The heart of this game lies in its enchanting character customization system. From eye and lip color selections to picking out cute noses and expressive eyebrows, My Manga Avatar lets you bring your dream manga character to life. Thinking about blue or maybe pink hair? The choice is all yours!
Dressing up your avatar is equally delightful. Whether you fancy a glitzy top or love the coolness of a Mickey Mouse tank-top, there's something for everyone's preference. And don't forget the accessories! Give your avatar some flair with nerdy glasses, colorful bracelets or rocking headphones.
In conclusion, My Manga Avatar is more than just a dress-up game—it's a space where creativity unleashes itself in the form of vibrant manga avatars that reflect you! With its charming graphics and endless customization options, it stands as an irresistible pick for fans of hairdresser games, fashion games, or anime games alike.
What are the best online games?