My Dear Boss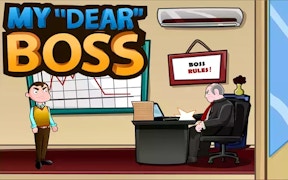 My Dear Boss
In the thrilling world of Action genre, a notable breath of fresh air is the game, My Dear Boss. Often categorized under tags like 'battle games', 'clicker games', 'fun games', and 'Addictive Games', this game is designed for everyone who has ever wondered about giving their annoying boss a good kicking.
The simple premise of My Dear Boss allows players to vent out their pent-up frustrations in the most entertaining and satisfying way- by launching your irksome boss out of a window! The only thing more satisfying than seeing your in-game boss being kicked into oblivion is the game's seamless blend of battle and clicker elements, making it a unique fusion that keeps you hooked for hours.
This isn't just another entry into the action genre; it's an epitome of fun games. Its diverse gameplay and simple controls make it easy to grasp yet hard to master. With every click, you send your virtual boss flying towards his much-deserved fate, earning points and, more importantly, satisfaction along the way. It's a satisfying spin on battle games, adding comedic relief to your aggressive clicks.
Few other entries in the roster of addictive games can match up to the charm and wit that My Dear Boss brings onto your screen. Each successful throw adds to the thrill and sense of achievement pushing you to better your previous best, making this one of those perfect Addictive Games.
The key takeaway from playing My Dear Boss is not just its heart-pounding action or hilarious premise; what truly sets this game apart is its ability to turn an otherwise stressful and mundane situation into something laugh-out-loud funny and addictively entertaining.
If you're an ardent fan of both fun-filled action and laugh-inducing humour, then don't miss out on playing My Dear Boss. It's time to kick some boss butt!
What are the best online games?