Multiplayer 4x4 Offroad Drive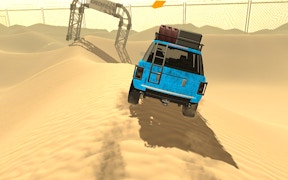 Multiplayer 4x4 Offroad Drive
Multiplayer 4x4 Offroad Drive redefines the genre of offroad games with its heart-pounding gameplay and dynamic multiplayer structure. If you're a fan of exhilarating car games or thrilling truck games, this game is just the horsepower-packed treat you need.
This game isn't just about speed, it's an unchained primeval force. This 4x4 off-road driving simulator brings out your beastly side, channeling your inner daredevil to challenge other raw-boned drivers in the most rugged terrains. It's not merely one of the driving games, it's a stampede on wheels.
The multiplayer feature of this game keeps you hooked with an insatiable urge for race dominance. But that's not all, it also provides a grand canvas of pristine 4x4 beasts. A symphony of roaring engines and screeching tires - this is what makes Multiplayer 4x4 Offroad Drive stand out among other simulator games.
The game ups the ante by introducing nerve-racking missions, stretching your driving skills to their utmost limits, making your journey from an ordinary driver to a 4x4 beastmaster an unforgettable one. The path to glory isn't easy but have no fear! Strap on your virtual safety belt and brace yourself for some top-tier off-road action.
If you're scouting the horizon for some electrifying, adrenaline-charged racing action, then look no further! Multiplayer 4x4 Offroad Drive is here to quench all your high octane thirst. Get ready to leave your tire tracks in the dust and conquer every mile - it's time to fasten your seatbelt and hit that accelerator!
What are the best online games?