Drift Boss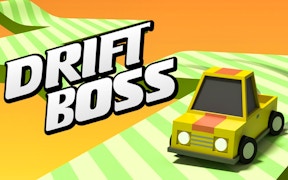 Drift Boss
While having a car may be becoming a thing of the past, there's no drop in the production of car games like Drift Boss. Drifting is one of the most skillful moves that a driver can pull off in a car but it's also quite dangerous. The objective is to turn sharply while alternating between brakes, acceleration, and turning in order to maintain the angle. This 3D isometric driving game is challenging you to do the very same, but this time your very life depends on it! Or not, it could be a remote control car, but you at least don't want it to get wrecked since those things can be expensive.
About Drift Boss.
Drifting is arguably something that a majority of drivers will never ever attempt even if they have a big empty space to practice. The good news is that we have games like this one to help us live out that fantasy. It's a much more simplified and toy-like version of the real deal, but it does its job well. It's fun, challenging, and can be addictive considering how easy it is to jump in and start driving. It also provides a decent amount of opportunities to get power-ups and unlock new cares for enjoyment.
How to Play
Drift Boss is a driving game that only needs one button to control. This is because the angle and the perspective of the game show everything while the car moves at a constant speed toward the top of the screen. By default, the car will be angled to drive to the left. However, by tapping the Spacebar or Left Mouse Button, you can cause the car to drift left. Holding either button will cause the car to maintain driving left.
The goal is to get as far along a narrow track that will constantly turn sharply in an attempt to get you to fall off, forcing you to restart. While going along the track, you encounter bumps and dips in it that will affect your car's movement. You can also collect coins on the track which are used to buy power-ups called Boosters. There are three available:
Boosters
Double Score - Doubles the value of how far the car travels.
Car Insurance - Protects your car from falling while in effect.
Coin Rush - More cars will appear on the track.
Tips and Tricks
This game is all about precision and timing in order to last as long as possible. The challenge is to make sure your car stays as close to the center as you can in order to minimize the risk of falling off. Drifts are almost instant but executed with lag, so you have to be careful not to do them too early or too late.
Drift Boss Game Modes
Although the game only provides one track that changes color and randomly generates, there are other activities you can do to earn coins. Keep in mind that after succeeding, they will take time to reset.
Guess the Number - Try to determine the value of a three-digit number.
Match the Cards - A matching game with eight cards, but only four chances to miss.
Simon Says - Memorize three rounds of patterns consisting of shapes and colors.
Maze Challenge - A 2D maze where you must guide a diamond to a heart.
Loot Boxes - A free chest that refreshes every few minutes, and a premium chest unlocked with cards or ads.
Daily Rewards - A chance to get boosters and coins every day of the week.
Car Cards - Your collection of car cards that you can match to assemble new cars.
Drift Boss Cars
What would a car game be without cars? From the start screen, you can select what car you want by clicking on the arrows on either side of the car. Most cars will be locked but can be purchased with coins earned from the track, other activities, and Daily Rewards.
You can also get cars by collecting cards. These are earned from Loot Boxes, giving you between 1 and 10 Level 1 cards. From the start menu, you can go to your card collection to try and match three cards of the same type. This will cause them to merge and turn into a Level 2 card. Repeat the process until you obtain a Level 5 card which will unlock the related car.
Game Details
Developer: Marketjs
Platforms: Web Browser (PC and mobile), and Android
Languages: English
Gameplay Footage
FAQs
What is the best car for drifting?
While all the cars in Drift Boss have the same stats, enthusiasts tend to rank sports cars as the top drifting cars. There aren't many in this game, but they look cool.
Does drifting damage your car?
In real life, consistent drifting will begin to wear on the tires which can create a dangerous situation. In this game, however, you don't have to worry about issues like that.
Games similar to Drift Boss
With cars and drifting in play, this game fits into Racing and Car Games on GamePix. These categories have titles like Car Chase, Drag Racing Rivals, Sports Car Drift, and Ultimate Flying Car.
What are the best online games?