Mr Pong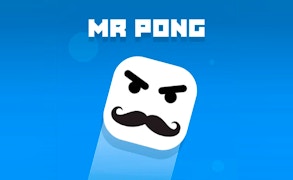 Mr Pong
Description
Introducing Mr. Pong, our charming hero with a prominent mustache, who's on a thrilling journey of survival and skill. Mr. Pong's mission is to bounce off platforms while avoiding prickly thorns that threaten his path. The game tests your agility and precision, providing endless entertainment as you skillfully maneuver through this lively arcade experience.
How to play
Mr. Pong is an interactive tap game where you control the direction of your hero by clicking or tapping on the screen. Each click changes the direction of Mr. Pong's jumps, helping him dodge dangerous thorns and land safely on platforms. The aim is to survive as long as possible, earning points for each successful jump.
Tips and Tricks
To excel at Mr. Pong, timing and precision are key. Learn to anticipate the distance between platforms and adjust your jumps accordingly. Remember to keep an eye on upcoming thorns - a single touch can end the game!
Features
Friendly user-interface with simple controls.
Challenging gameplay requiring precision and speed.
Captivating graphics add to the overall gaming experience.
A cool mustachioed character makes it fun and entertaining.
A score system which fosters competition and improvement.
What are the best online games?