Mr Noob Fighter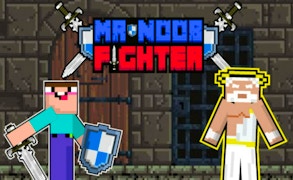 Mr Noob Fighter
Dive into the pixelated universe of Mr Noob Fighter, an entrancing addition to the realm of action-packed pixel games that keeps you on your toes! Equally exhilarating for fans of sword games, battle arenas, and skill-based conflict, this game retains an engaging momentum from start to finish.
The premise is deceptively simple - keep moving, overcome barriers, and defeat foes. Yet, within this simplicity lies a heart-racing journey that engages players with its ever-changing dynamics. Attentiveness is key as you need to time your jumps perfectly while collecting coins along your way - a delightful throwback to classic Minecraft Games.
Mr Noob Fighter stands out in the overflowing genre of survival games. It's not just about outlasting your enemies but rather understanding their movement patterns and mastering the fine art of pixel warfare. The game rewards swift reflexes, accurate attacks, and strategic movements – all hallmarks of top-notch Skill Games.
The coin-collection feature adds an extra layer of excitement as it offers the ability to unlock new skin! This isn't merely a cosmetic enhancement. It alters the game play in subtle yet impactful ways by introducing new abilities and skills that alter your combat strategy in this thrilling battle game.
In conclusion, Mr Noob Fighter is more than just a nostalgia trip with its pixelated aesthetics borrowed from Minecraft Games. It's an adrenaline-rushed experience where every leap, every coin collected, and every enemy defeated feels monumentally rewarding. If you're after a game that combines strategy, skillful combat sequences and immersive survival scenarios, then prepare for battle with Mr Noob Fighter!
What are the best online games?