Mr Kaw 2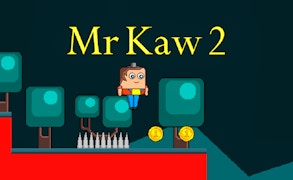 Mr Kaw 2
Description
Experience the thrill of evasion and collection in the second installment of the "Mr Kaw" series, Mr Kaw 2. This 2D platformer game challenges you to collect golden coins while outsmarting an array of enemies and avoiding lethal spikes. With each level, the difficulty increases, culminating in an epic escape journey through a series of 8 diverse levels.
How to play
To navigate through the game, use "WASD" or "Arrow" keys. The "W" or "Up" arrow key triggers a double jump if pressed twice in quick succession. The aim is to gather all the golden coins and reach the exit door unscathed, all while evading flying robots and other traps.
Tips and Tricks
To ensure success in Mr Kaw 2, remember to always be on the move. Utilize your double jump wisely as it can help you dodge enemies or leap over lethal obstacles. Keep your eyes on flying robots' movement patterns; understanding these will aid in anticipation and evasion.
Features
Precision-based platformer action with a deftly escalating difficulty curve.
A total of 8 diverse levels increasing in complexity.
Engaging enemy AI with flying robots.
Alluring golden coins scattered throughout each level for collection.
What are the best online games?