Mr Bullet 3D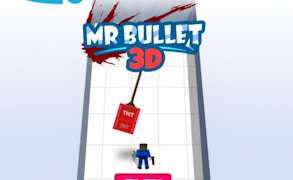 Mr Bullet 3D
Looking for an adrenaline-pumping, action-packed shooting delight? Look no further than the spectacular extravaganza that is Mr Bullet 3D, the latest exclusive release from kiz10.com. If your desire is a game that combines thrilling action with bountiful fun, Mr Bullet 3D, among the hottest gun games, has all of your needs covered.
This isn't your ordinary shooter; it's a twist on traditional skill games, requiring precision, strategy, and keen insight. As you take control of the titular character, Mr Bullet, you'll find yourself facing challenging levels that will push your gaming prowess to its limits. It's not just about firing bullets; it's about calculating angles, managing rebounds and conserving ammunition to outsmart and eliminate the enemy agents lurking in each level.
The 3D graphics woven into this game are nothing short of impressive, providing an engaging and immersive environment for players. With more than 15 dynamic levels in normal mode alone, you'll find countless hours of entertainment packed into this gem of a game. But don't let the fun stop there! Triumph over normal mode to unlock Hostage mode - an even more demanding and exciting challenge that adds an extra layer of complexity and intrigue to this must-play title.
So step into the shoes of Mr Bullet and prepare for a truly epic gaming experience. Whether you're a dedicated shooting game enthusiast or someone seeking a new gaming adventure, Mr Bullet 3D promises endless excitement with every level conquered. Don't miss out on this top-tier addition to Kiz10's collection of free games with rewards. Get ready to take aim - your mission begins now!
What are the best online games?
Tags