Mortal Brothers Survival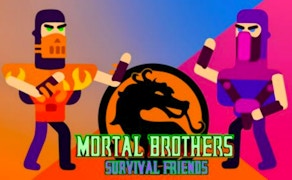 Mortal Brothers Survival
Prepare for an electrifying adventure in the thrilling new escape title, Mortal Brothers Survival. This game uniquely combines mechanics from survival games, 2 player games, and escape games to deliver a heart-racing experience that gamers yearn for.
Delve into the deep, dark dungeons holding Scorpion and Subzero captive. These two iconic enemies find themselves wedged in an unprecedented situation where they must shelve their differences and unite for survival. The captivating storyline is interwoven with challenging puzzles, creating a dynamic gameplay experience that demands both strategic thinking and quick reflexes.
In addition to surviving the austere dungeon conditions, players are tasked with collecting corresponding flames for each character. This innovative feature elevates the game's intensity, adding another layer of thrill into this unique fusion of survival and escape games. But beware - one false move could land your character on a fire not designated for them - leading to an immediate loss!
Yet, true to the spirit of survival games, Mortal Brothers Survival doesn't punish failure too harshly - you can restart levels as many times as necessary. This allows room for experimenting with different strategies while ensuring that the gaming experience remains enjoyable and less frustrating.
The level of cooperation required in this 2 player game is nothing short of fascinating. It is not just about having two characters on screen; it's about mastering how to synchronize their actions for successful navigation through each level.
So, are you ready to lead Scorpion and Subzero out of their deadly predicament? If yes, then Mortal Brothers Survival promises an intense gaming adventure leaving you on the edge of your seat!
What are the best online games?