Morning catch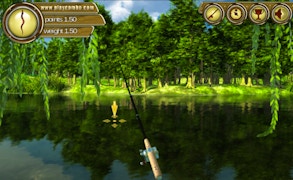 Morning catch
Prepare to be hooked by the allure of Morning Catch, a reel-y outstanding member of the action genre that will swiftly become your favorite among fishing games. This title plunges you into the depths of virtual angling adventure, making you feel like you're casting your line under the glistening morning sunlight.
Whether a casual gamer or a devoted fishing enthusiast, Morning Catch proves itself as one of the most immersive simulator games available. The game throws you head-first into a photorealistic environment where you can choose from an array of stunning fishing spots. Here, under a canopy of rustling leaves or beneath the unclouded sky, you have a chance to catch an assortment of fish – from ordinary bluegill to elusive flathead.
The gameplay isn't just about casting your bait and waiting for the fish to bite, it's the stylized dance between patience and action that truly catches your attention. That thrilling moment when a fish bites and your rod bends is captured wonderfully. As each catch finds its way from water to dry land, players are rewarded with points that eventually lead towards exciting upgrades.
The game beckons you to amass points to acquire new baits, rods, and exclusive locations on the lake. It implements an intricate progression system that keeps players coming back for more. The promise of new equipment or a fresh fishing spot gives every round an addictive edge that's hard to resist.
Morning Catch is no shallow pond but a deep lake filled with uncharted experiences. If it's immersive aquatic action you seek, this ingenious combination of fishing and simulation is nothing short of bait for your gaming appetite!
What are the best online games?