More Ore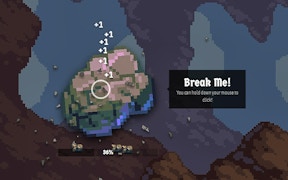 More Ore
Unravel the virtual splendour of More Ore, a thrilling synthesis of action and role-playing games. This beguiling title is a standout among the rising trend of clicker games, idle games, and true to its core, expertly combines elements from mining games.
Proudly boasting an enchanting pixel design, this game invites enthusiasts to immerse themselves in an engaging mining adventure. The game's core mechanic is effortlessly simple: mine ores—yet it's layered with appealing complexity. While many might assume that clicker games lack depth, More Ore shatters this preconception. Purchasing buildings, finding superior equipment – each click propels you into engrossing strategy decisions.
The game doesn't confine you to the mine; adventurers can embark on quests, confront formidable bosses and uncover rare treasures. Adding spice to the gameplay are the captivating elements of pets and artifacts. These multipliers grant exceptional powers, strengthening your mining endeavors.
More Ore is not just an idle game—it's a world teeming with opportunities and challenges. From upgrading your gear to spending wisely on buildings, every action requires careful thought and strategic planning. And at the heart of it all is the timeless allure of pixel gaming.
In conclusion, More Ore masterfully encapsulates what makes both clicker-games and role-playing-games so enticing for gamers. It's a unique digital journey where every click transports you deeper into an expansive world that flawlessly marries action-packed adventures with poignant idle game design.
What are the best online games?