Moo Bot 2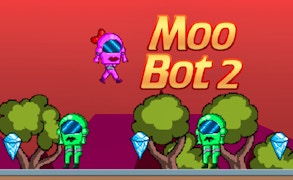 Moo Bot 2
Description
In Moo Bot 2, the sequel to the beloved original, you enter an advanced, 2D sci-fi world as a fearless robot. Your mission is to navigate complex landscapes and gather precious blue energy crystals, all while evading a variety of aggressive enemies and deadly lasers. With each level, the challenge intensifies, testing your skill and endurance across eight intense stages.
How to play
Control your character using the "WASD" or "Arrow" keys. Surpass obstacles and reach higher platforms via double jump, achieved by quickly pressing "W" or the "Up" arrow twice. Reach the exit door to advance to the next level; remember, danger lurks around every corner.
Tips and Tricks
Mastery of double jumping is key in navigating treacherous terrain and dodging enemy fire. Time your movements perfectly to avoid green and yellow enemy bots, as well as dangerous lasers. Keep an eye out for flying bots that often drop useful items.
Features
An engaging sci-fi adventure platformer game set in fascinating 2D graphics.
A vast array of enemies and obstacles for a challenging experience.
Addictive gameplay with increasing difficulty across eight levels.
The strategic element of collection of energy crystals adds an extra layer of depth.
The return of fan-favorite elements from Moo Bot 1 with exciting new additions.
What are the best online games?