Monsters Merge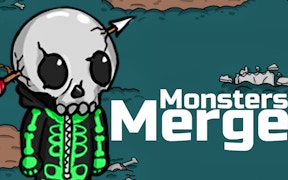 Monsters Merge
Welcome to our latest game review, where we delve into the engaging digital world of Monsters Merge, a standout title in the exciting realms of monster games, clicker games, tap games, and idle games.
We begin our journey with an ordinary farmer, whose life lurches into the extraordinary when his humble farm is besieged by monsters. With his harvest decimated, he faces adversity head-on by trapping these creatures and turning calamity into opportunity. His innovative decision to establish a monster farm becomes an unexpected source of profit, as he sells tickets to curious onlookers keen to witness his monstrous captives.
Monsters Merge tells a compelling tale of resilience and innovation that resonates with gamers. This action-packed game offers its players a unique blend of genres, merging monster-centric scenarios with the idle joy of clicker and tap-based gameplay. You are not just playing a game; you are embarking on a thrilling odyssey of turning the tables on adversity.
The game's mechanics are straightforward but addictive; it beckons gamers to tap, click and merge monsters quickly and efficiently to expand their monstrous menagerie. The casual style gameplay is immediately gratifying, perfectly suited for those who enjoy idle games that offer endless hours of engaging fun.
The uniqueness of Monsters Merge is in its narrative structure: combining elements from different genres – action, monster capturing, clicker gaming – into one engrossing package. This amalgamation provides added depth to the gaming experience and allows for greater player engagement.
In conclusion, Monsters Merge triumphs as an engaging action-packed title tickling the curiosity of gamers interested in monster games, clicker games, tap games and idle games alike. Faced with adversity or looking for some simple gaming pleasure? Either way, Monsters Merge invites you along for an epic journey like no other.
What are the best online games?