Monsters Match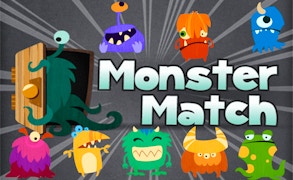 Monsters Match
Description
Welcome to Monsters Match, a delightful game that stimulates your memory and perception. This game entails uncovering cards with endearing monster graphics, recognizing patterns, and matching pairs. Beware! Each card flip reveals a unique creature, and the objective is to match them in pairs or triples based on given targets.
How to Play
The gameplay revolves around flipping cards with a simple click. Memorize the monster on each card as you flip them over. Your mission is to find all matching pairs or triples of monsters under a certain timeframe. As you progress through the game, the number of cards will increase, challenging your memory skills.
Tips and Tricks
A successful strategy for Monsters Match includes flipping over cards systematically and remembering their placement. Try flipping over new cards before moving onto previously flipped ones; this will give you ample opportunity to find matches swiftly and ramp up your score.
Features
Catchy graphics with unique monster designs.
A thrilling challenge for memory improvement through multiple levels.
User-friendly mechanics suitable for kids and adults alike.
An immersive gaming atmosphere that keeps you engaged for hours.
What are the best online games?