Monster Candy Rush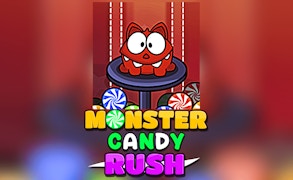 Monster Candy Rush
Description
Step into the monstrous world of Monster Candy Rush, an entertaining arcade game filled with sweets and challenges. You're a candy-loving monster on a quest to satisfy its sweet tooth. Every bite of candy is essential. Be vigilant, though, as avoiding obstacles is crucial to keep your monster thriving in this sugar-coated adventure! Bonus gold helps in enhancing your monster's look with trendy costumes.
How to play
In Monster Candy Rush, guide your character using arrow keys or swipe gestures to gobble up candies and gold, while avoiding hindrances along the way. Pay attention to level requirements and react quickly. Progressing in this game means successfully dodging obstacles and collecting all the candies in each level.
Tips and Tricks
Be strategic about movement paths for successful candy gobbling. Take risks when needed but value staying alive over gaining extra points. Remember, acquiring gold can help you get new costumes thus making your monster look even cooler.
Features
Candy-filled arcade levels for endless fun.
Challenging obstacles that keeps the game exciting.
The ability to personalize monsters by changing their costumes.
Addictive gameplay designed for a thrilling experience.
What are the best online games?