Money Rush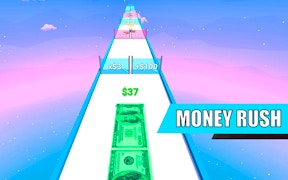 Money Rush
Experience the ultimate adrenaline rush with Money Rush, a thrilling blend of Hyper Casual Games, running games, and prime money games. A unique fusion of excitement and strategy that challenges you to navigate your way through an unending landscape of monetary mania, collecting as many coins as you can along the way.
This game will set your pulse racing in a frantic effort to grab all that glittering gold. It's not just about speed, it's about choice and precision. This is where Money Rush stands out among other running games. It requires you to make lightning-fast decisions on which gates to go through, guaranteeing a nerve-wracking experience every step of the way.
The core gameplay mechanic is simple yet addictive. Choose the right gates that multiply your coins and avoid those that deplete them. It's a delicate balance that keeps your eyes glued to the screen, eagerly anticipating your next move. The sheer suspense adds depth to this addition in our list of top-notch money games.
Alongside its heart-pumping premise, Money Rush is also a practical math exercise camouflaged in exciting gameplay. To maximize your score, you need to select the most profitable paths, turning this game into one of the best number games out there.
In conclusion, Money Rush is more than just another run-of-the-mill title in a sea of hyper casual and running games. It combines strategy with speed and numeracy with nimbleness, making it a must-play for gamers who enjoy a money-infused challenge with every round. Get ready to sprint headfirst into this thrilling financial frenzy and turn your gaming hour into a real-life cash rush!
What are the best online games?