Mommy's Blog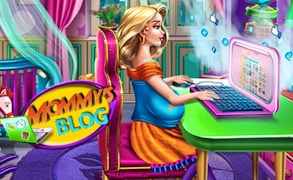 Mommy's Blog
If you're a fan of games for girls, particularly those that involve creativity and an eye for fashion, you are going to love the charming game, Mommy's Blog.
In this delightful fashion game, players step into the stylish shoes of a fashionable soon-to-be mommy who manages her own online business. Your task? Help our protagonist find the perfect outfits for blog pictures, write engaging content and collect those hard-earned dollars. This game effortlessly combines elements of dress up games and hairdresser games, making it a go-to choice for those who crave variety.
The gameplay is as satisfying as it is addictive. Not only do you have the freedom to experiment with trendsetting maternity styles (who says moms-to-be can't be fashionistas?), but you also get to explore the rewarding journey of bringing a successful blog to life. Every selection you make impacts the quality of your articles - allowing mommy's blog to flourish or fall flat on its face.
What sets Mommy's Blog apart from other fashion games is its innate ability to combine elements from different genres fluidly. From picking out outfit combinations in one moment to styling hair in another, the game provides a multifaceted experience that keeps players engaged.
Beyond its entertaining gameplay elements, Mommy's Blog also teaches valuable lessons about budgeting and time management - making it not just fun but educational too. As one of the standout games for girls, Mommy's Blog provides an immersive experience that appeals to both your creative and strategic senses.
To wrap it up, if you love fashion, blogging, and adorable motherhood stories combined into one entertaining package - Mommy's Blog is undoubtedly a must-play! Don't miss out on this captivating journey of dress-up, hairdressing, blogging success and soon-to-be motherhood!
What are the best online games?