Model Wedding - Girl Games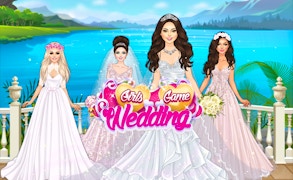 Model Wedding - Girl Games
Description
"Model Wedding - Girl Games" offers a delightful gaming experience, putting you directly into the hustle and bustle of wedding day preparations. Even as a superstar model, your character is just as excited and nervous for her big day. This game provides an extensive choice of luxurious bridal outfits, classy dresses, fancy hairstyles, and trendy accessories. It invites you to design the perfect wedding for your model bride. Every little choice is in your hands, from the bridal dress to the bouquet.
How to play
Simply use your mouse or touchscreen to select items and dress up your model bride. The gameplay is all about mix-and-matching various items to achieve that perfect wedding look. Choose from over 200 items including dresses, shoes, veils, handbags, bouquets ,and jewelry. Remember there are 4 brides waiting for your fashion touch!
Tips and Tricks
The key is to experiment with different combinations. There is no right or wrong style. So, unleash your inner fashionista and try out unconventional looks or stick with traditional outfits if you prefer. Each bride has her unique taste ,embrace it !
Features
Huge selection of items: More than 200 items available for styling.
Multiple models: Design the perfect wedding look for 4 different brides.
No in-app purchases: All features are completely free, offering an unlimited number of unique combinations.
Artistic development: Enhances creativity and develops artistic taste and fashion designer skills.
A variety of games available: For those who love dress-up games, a wide range of other games are available for download.
What are the best online games?