Moba Simulator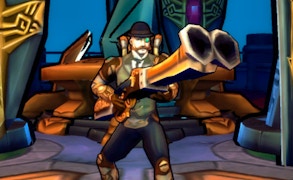 Moba Simulator
Immerse yourself in the dynamic world of strategy gaming with Moba Simulator, a compelling addition to the genre of Management Games, merging unique elements of Skill Games, thrilling Battle Games, and engaging Simulator Games. This captivating piece of excellence brings the thrill of interactive arenas, reminiscent of fan-favorites like LoL and Dota, right at your fingertips!
Moba Simulator is not just another addition to the burgeoning genre of gun games. The game stands head and shoulders above others in its category. Each skirmish feels like a strategic ballet where every decision, no matter how minor, can have significant long-term repercussions.
What sets Moba Simulator apart from conventional Gun Games is its focus on skill development and tactical prowess. The game doesn't just lean on the raw instincts that most shooter games do, but rather encourages deep strategic thinking akin to a game of chess. The ability to select your hero and level up their abilities offers unparalleled levels of customization and adds another layer of depth seldom found in other games.
The AI-controlled enemy deserves a special mention for creating an immersive challenge that keeps you engaged round after round. This foe is designed with an impressive balance - not too easy to overcome quickly nor impossible to beat, creating an enticing challenge for gamers seeking complex tactical battles.
In summary, if you're looking for an addictive strategy management simulator with a sprinkle of battle intensity, look no further than Moba Simulator - an amalgamation of everything a gaming enthusiast seeks in a riveting gameplay experience.
What are the best online games?