Mister Lifter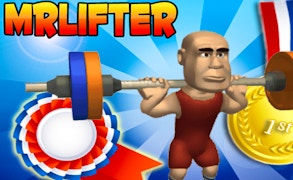 Mister Lifter
Description
Muster your strength in Mister Lifter, an action-packed game that will put your speed to test. The aim is to assist a professional weight lifter in his relentless pursuit for the ultimate glory. Your role is to tap him into action. The faster you tap, the quicker he lifts the weights. Set incredible records and dare your friends to break them in this thrilling casual sports game.
How to play
The gameplay is as straightforward as it can get. Tap on your screen to make the weight lifter lift his weights. Fast, consistent tapping will result in quicker weight lifting. Your mission is to achieve record-breaking times and lead the leaderboard, making your mark as the ultimate Mister Lifter maestro.
Tips and Tricks
To excel in Mister Lifter, rhythm and speed are paramount. Develop a steady tapping rhythm which you can sustain for longer durations without tiring out quickly. Starting slowly may help to build up speed gradually rather than trying to tap fast right from the start.
Features
Addictive Gameplay: Simple yet challenging, perfect for quick gaming sessions.
Competitive Leaderboard: Aim for record times and challenge friends.
Casual Sports Game: Offers a unique blend of casual gaming with sports excitement.
User-friendly Controls: Easily navigate through the game with a simple tap mechanism.
What are the best online games?