Penalty Shooters 2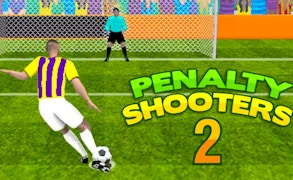 Penalty Shooters 2
It's arguable that the most popular sport around the world is football (soccer to some) and Penalty Shooters 2 gives us a chance to experience the thrills of it. The goal may look pretty easy to see on paper: Two teams try to kick a ball into the opposing team's goal with whichever team scoring the most goals winning. However, sometimes it all comes down to penalty shots where it's just player versus player. It's a 3D rendering game of one player trying to take a shot at the goal while another tries to block it. This is something of a standoff that keeps tension high.
About Penalty Shooters 2
Anyone who's seen a football game knows how long they can be with each team working their hardest just to get near the goal. As such, many games end with a draw which goes into overtime and possibly penalty shots. This game focuses on what is probably the most tense and exciting part of the game. It's like a wild west showdown with kicker versus goalie. It's all about getting into your opponent's head as you try to guide their shot or juke their dives. Getting the shot and blocking it are both relieving and satisfying.
How to Play
Penalty Shooters 2 is pretty simple as it takes place on one game screen and only uses the mouse. It's a single-player game where you play against CPU teams trying to block and take shots. The goal is to score as many goals as possible while preventing the opponents from scoring against you.
When you're shooting, a target reticle and arrow move back and forth across the bottom of the goal line. To take a shot, just click to stop the target and your player will shoot the ball at it. You can change the elevation of the shot by holding down the left mouse button which will cause the target to go up while still going back and forth. Let go of the button to take the shot.
When you're defending the goal, a target will appear somewhere on the goal before the kicker shoots. To block the shot, click on the target, and the goalie will move or dive toward it in order to stop the ball.
Each side gets five chances to score/block as many shots as possible. When one side has more goals than is possible for the other side to score, that side wins. In terms of a draw, additional penalty shots are taken.
Tips and Tricks
There's no time limit to taking shots so choose your target carefully and be sure not to repeat the same shots. Also, be warned that once you start to elevate the target, there's no way to bring it down again so be sure you know what you're aiming for before you do. When defending, don't click too soon or too late otherwise the ball will soar right past you.
Penalty Shooters 2 Leagues
Before you start playing the game, you have a chance to choose among one of several leagues. Most are associated with a country that takes football very seriously and you can also participate in the World League. When you choose a league, you can play by selecting one of the teams associated with it. Then, you'll challenge opposing teams to penalty shots in order to win a cup in the associated league.
Game Details
Developer: Vlad
Platforms: Web Browser (PC and mobile) and Android
Languages: English
Gameplay Footage
FAQs
How do you win Penalty Shooters 2?
Aside from switching up shots and waiting until the kicker actually kicks before blocking, you're aiming to lead your team to victory against other teams in whatever league you choose. Ideally, you're trying to win a cup in each one.
Games similar to Penalty Shooters 2
Considering this is a title revolving around a specific sport, you can find it in both the Sports and Football Games categories on GamePix. You can also find games like Ping Pong, Touchdown Pro, Foot Chinko, and Football Legends.
What are the best online games?