Euro Penalty Cup 2021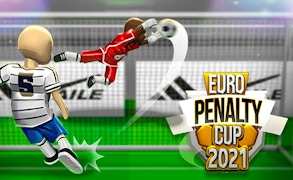 Euro Penalty Cup 2021
Immerse yourself in the world of ball games and take your love for football games to a higher level with the heart-thumping action of Euro Penalty Cup 2021. Whether you are an avid fan of soccer games or nurturing a newfound appreciation for world cup games, this game is set to impress.
The Euro Penalty Cup 2021 is an exciting infusion of intense competition, skillful play, and moments of nail-biting suspense. It's centered around the thrill of penalty shootouts, one of the most charged moments in any football match. You'll feel your pulse race and adrenaline surge as if you were on the real field.
No doubt, Euro Penalty Cup 2021 stands out among other football games with its crisp visuals and smooth, intuitive controls. You can practically feel the weight of every kick and gasp at each near-miss as if watching from the stadium. This game flawlessly bridges the gap between virtual reality and tangible excitement.
In terms of gameplay, Euro Penalty Cup 2021 successfully incorporates real-world techniques used by soccer pros during tense penalty shootouts. It's an opportunity to step up and fill in the boots of your favorite football stars. Execute perfect strikes or make breathtaking saves while facing off against competitors from across the globe.
Euro Penalty Cup 2021 is a must-play for fans of ball games seeking an authentic soccer experience without leaving their couches. It offers hours of engaging gameplay while sharpening your skills on scoring goals or keeping them at bay through defense strategies.
To sum up, gear up for an exhilarating ride with Euro Penalty Cup 2021 - a game that brings thrilling soccer matches right to your fingertips.
What are the best online games?