Missile Defense System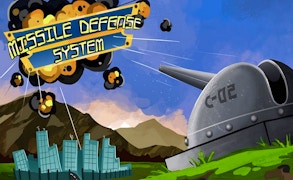 Missile Defense System
Welcome to an immersive world of exhilarating action in the battle game genre, specifically designed for lovers of gun games, war games, and battle games. The name of this enthralling action-packed paradise is Missile Defense System.
A beacon of hope in a war-torn world, Missile Defense System will instantly grip your attention with its intense narrative and purpose. This game is more than just a mindless shoot-em-up; it's a test of speed, precision, strategy, and critical thinking. Your mission? To safeguard cities and villages from insidious air assaults being launched by an unseen enemy. The stakes couldn't be higher as thousands of innocent lives hang in the balance.
The thing that sets Missile Defense System apart from other generic gun games is the layer of strategic depth involved. You are not just spraying bullets aimlessly, but you are coordinating your units to surgically destroy incoming missiles before they touch the ground.
The thrill of the combat is palpable at every stage; with every missile that you have to intercept, your heart pounds harder. And as you get more adept at managing your resources and deploying your troops judiciously, you will find yourself hooked to this war game like no other.
Every level presents a unique set of challenges and demands the gamer to adapt quickly. The speed and methodical nature required for this game truly test your mettle! This isn't merely about who has the quickest trigger finger—it's also a test of who can think on their feet amidst chaos and destruction.
In conclusion, Missile Defense System is not just another action game; it represents a unique blend of fast-paced gunplay and thoughtful strategy that is rare in war games these days. As you strive to make the best score, what you're really doing is proving your worth as a leader who can make life-or-death decisions under pressure. So gear up, take on the challenge and save our world from annihilation!
What are the best online games?