Miss Yuuno 2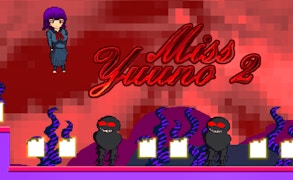 Miss Yuuno 2
Description
In Miss Yuuno 2, you'll assume the role of an amnesiac girl named Yuuno, whose mission is to retrieve her fragmented memories. This 2D platformer game takes you through a challenging journey of dodging shadowy monsters and perilous obstacles across eight incrementally difficult levels. The second installment of the well-loved "Miss Yuuno" series promises to bring even more action and suspense.
How to play
To control Yuuno, use either the "WASD" or "Arrow" keys for movement. A double-press on "W" or the "Up Arrow" key will make Yuuno perform a double jump. Your goal is to collect all memory fragments in each level and reach the loop hole to progress to succeeding levels.
Tips and Tricks
Keep your movements unpredictable against shadow monsters. Double jumps are especially useful for dodging ground saws and spikes, so make sure to perfect this skill. Always stay vigilant for any hidden memory fragments—they can often be found in difficult-to-reach places.
Features
An engaging storyline based on memory recovery.
A variety of challenging obstacles including shadow monsters, flying creatures, ground saws, and spikes.
Precise double jump mechanics for exciting gameplay.
Eight distinctive levels with increasing difficulty.
Pleasing anime-style visuals that add charm to the game.
What are the best online games?