Minimal Dungeon RPG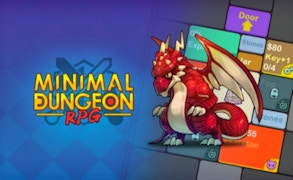 Minimal Dungeon RPG
Get ready to embark on a thrilling journey in Minimal Dungeon RPG, the perfect fusion of classic RPG and modern innovation. This game transforms the regular RPG experience, simplifying it to suit a broader range of gamers and still maintain the intrigue that veterans of the genre have come to love.
As tag lines like monster games, clicker games, fun games, and even dragon games suggest, Minimal Dungeon RPG brings a plethora of captivating creatures right at your fingertips. The game's unique design presents dungeons as interconnected rooms, each filled with a variety of challenges in the form of clickable squares.
No need for complex navigation or sophisticated character control; all you need to do is click on squares to navigate through the dungeon. This fresh twist on gameplay makes it one of the most accessible and interesting clicker games.
The enemies you encounter aren't just nameless fodder either. The game breathes life into its roster of adversaries, from menacing monsters to mighty dragons, adding an extra layer of excitement that makes it stand out among other dragon games.
The gem at the heart of Minimal Dungeon RPG is its rich storyline. While its mechanics may be simplified, its narrative is anything but. It provides an immersive tale that weaves seamlessly through your dungeon crawling journey, affording even more depth and flavor to your adventure.
To sum it up, Minimal Dungeon RPG delivers on all fronts: gripping plot, engaging gameplay, and variety that's not often found in other fun games. Whether you're an old-hand at RPGs or are new to the genre and are looking for something easy yet fun to dip your toes into, this innovative title should not be missed!
SEO Keywords used: Minimal Dungeon RPG, monster games, clicker games, fun games, dragon games.
What are the best online games?