Mini Skin Doctor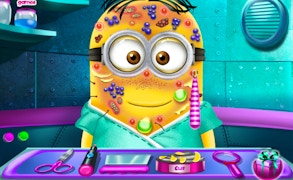 Mini Skin Doctor
Welcome to the enchanted world of Mini Skin Doctor - a fascinating blend of operation games, makeup games, and learning games specifically designed to cater to the interests and learning needs of our young gamers. This game effortlessly combines education with entertainment, making it a perfect choice in the spectrum of games for girls and games for kids.
In the intriguing storyline, you will find Mini, our adorable protagonist, dealing with some unexpected side effects from crazy experiments conducted in a laboratory. This is where your adventure begins! As you embark on an exciting journey to become Mini's personal skin doctor, the game spurs curiosity about medical tools and imparts valuable knowledge concerning dermatological care.
This game is filled with various cool medical tools at your disposal! From lasers that treat skin breakouts to indulgent spa masks that soothe irritated skin, Mini Skin Doctor offers an expansive range of tools. One moment you are performing complex operations; the next, you are applying calming masks - this game truly keeps you on your toes!
The easy-to-understand interface and enjoyable activities make it a standout among other learning games. Not only does it help children understand basic dermatological concepts but also promotes a sense of compassion as they care for Mini.
In conclusion, Mini Skin Doctor brings together elements of operation and makeup games in an engaging package that captivates children while educating them. If you are on the lookout for an educative yet entertaining game that sparks curiosity while fostering empathy in little hearts, Mini Skin Doctor could be just what you need!
What are the best online games?