Mini Clash War Z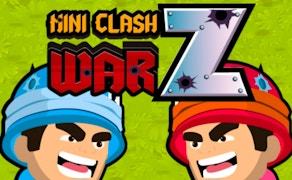 Mini Clash War Z
Welcome to the thrill-a-minute world of Mini Clash War Z, an immersive blend of action and strategy that takes center stage in a war of miniatures. This game, oozing with strategic intricacies and adrenaline-spiking excitement, is waiting to be conquered on the vibrant platform of kiz10. A harmonious blend of management games, gun games, war games, and battle games, Mini Clash War Z is a testament to the fun and brain-racking pleasure that quality Strategy Games can deliver.
In Mini Clash War Z, you're not merely playing a game – you're commanding an army, deploying your troops with pinpoint precision, battling against formidable foes. The heart of this game lies in its strategic movements, where the right decision can lead to victory, while one false move can spell disaster. It's a test of both your military mettle and mental agility, striking a fine balance between skillful action and tactical judgment.
The objective? To complete each level by capturing the enemy base. How? By successfully navigating the warfare terrain strewn with obstacles and enemies. But remember, brute force won't ensure victory in these gripping skill games. Only strategic planning combined with the right movement control will help you tally up your soldiers for that decisive attack.
In conclusion, Mini Clash War Z stakes its claim as one of those rare games that not only entertains but also polishes your strategy-making skills. Whether it's about counting soldiers for a significant movement or eliminating positioned soldiers at different points of your base - every decision counts in this immersive warfare challenge.
If battles make your pulses race, if strategy is your second skin – then Mini Clash War Z is the game for you! Get ready to take command - let's battle!
What are the best online games?