MineBlock Earth Survival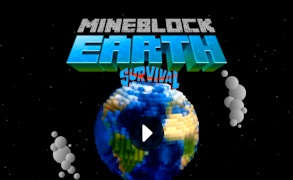 MineBlock Earth Survival
Today, we dive into the exhilarating world of MineBlock Earth Survival, an addictive entry in the realm of arcade games that's brimming with action and elements of strategic play. Tailored for the thrill-seekers of all ages, this game perfectly amalgamates various genres, making it a standout among skill games, pixel games, Minecraft games, and running games.
MineBlock Earth Survival springs from the beloved lineage of Minecraft Games, a visually pleasing homage to the pixel-art aesthetics. A testament to its robust design is how it seamlessly incorporates mechanics from different gaming genres. Its heart-pounding speed is reminiscent of classic running games, while the unrelenting challenges are sure to please enthusiasts of strategic and survival games.
Your mission is simple but far from easy: survive as long as possible in a world where danger rains from the sky. As meteors plummet towards you in a deadly downpour, your survival instincts kick in. Your agility will be put to the ultimate test as you dodge these falling fiery rocks, maintaining both your life and a high score.
A touchstone of hope within this treacherous terrain comes in the form of mushrooms – your only defence against this meteoric menace. Grab one, and voila! All meteors on-screen meet their doom, giving you precious moments of respite. This truly cements MineBlock Earth Survival's place among fun-filled yet challengingskill games.
In conclusion, if you're seeking exhilarating gameplay that tests your reflexes and decision-making skills under pressure, look no further than MineBlock Earth Survival – an arcade survival game that guarantees pulses will race!
What are the best online games?