Mind Games for 2 Player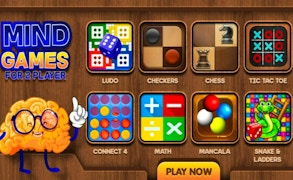 Mind Games for 2 Player
Looking for an engaging and stimulating way to ignite the neurons of your little ones? Mind Games for 2 Player is the ultimate gaming assortment you've been waiting for! These games stretch across a myriad of genres, ensuring there's something to stimulate every young intellect. From tactical brain games to fun-filled board games, your search for the perfect kids' game ends here.
Open this box of joy and discover eight thought-provoking table games, all loved by millions across the globe. You're spoilt for choice here, with culturally rich Chess games and checkers games that will keep your kids occupied while enhancing their strategic thinking abilities. Instead of sticking to one game, now you can challenge them with a new one each day.
Tic Tac Toe, Ludo, Connect 4, Snake and Ladders, Mancala, and stimulating Math games add more to the variety. Each of these Games for Kids has been carefully curated to ensure they not only entertain but also build cognitive skills among children in an enjoyable way.
The USP of this collection is undoubtedly its 'Spin' feature. If you're unsure which game could perfectly match your kid's interest or mood, just give it a spin! This interesting twist will pick a game for you making family games night more spontaneous and fun-filled. Be it chess games or 2 player games; there's always an element of surprise waiting for you.
Mind Games for 2 Player is not just any other game; it is a well-thought-out assortment that promises wholesome entertainment while subtly developing strategic thinking among children. So whether you are looking for Games for Kids or engaging family games that everyone can enjoy, this package has got you covered!
What are the best online games?