Metal Army War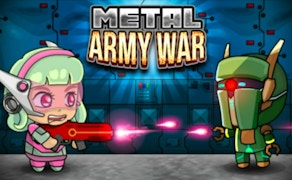 Metal Army War
The Metal Army War game is an adrenaline-pumping addition to the realm of action-packed war games, gun games, and 2 player games. It stands not only as a captivating action entry but also shines as one of the top battle games in the market today. If you're a fan of unstoppable robotic confrontations, then this game certainly echoes your love for robot games.
In Metal Army War, the dark robotic kingdom is on a mission to conquer Earth and convert it into a cold, metallic robot planet. The stakes couldn't be higher as you face off against this mechanized menace either alone or alongside a comrade. This game not only tests your combat skills but also your determination to save humanity from being turned into an emotionless robotics assembly.
As you plow through enemies, dismantle deadly traps, and free hostages, you'll be rewarded with precious metallic materials. These materials are not just tokens of valor; they serve a practical purpose too. They can be used to upgrade your weapons and fortify your health bar, giving you an edge in this unforgiving battlefield.
The gameplay intensifies after fifteen grueling levels of non-stop warfare when you encounter the final BOSS. This epic face-off is where heroes are made! If you manage to defeat the BOSS, you successfully complete the mission and save our dear planet from becoming a lifeless heap of metal.
In conclusion, Metal Army War offers an immersive war experience complete with engaging gunfights and strategic battles against formidable robot adversaries. Whether you're playing solo or joining forces with a friend, this game serves up challenge and excitement in equal measure making it one of the best 2 player games out there.
What are the best online games?