Mermaid's Tail Rush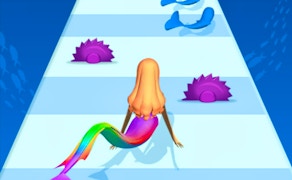 Mermaid's Tail Rush
Dive deep into the mesmerizing underwater adventure that is Mermaid's Tail Rush, a captivating addition to the thrilling genre of arcade games. With its compelling gameplay, it's sure to attract fans of both running games and skill games, offering a beguiling freshness to these popular categories. But be warned, this is not your typical mermaid game – it's uniquely challenging with an enchanting twist.
In Mermaid's Tail Rush, players are entranced by the visually pleasing environment but quickly realize the game is more than just aesthetics. You are tasked with helping a charming little mermaid grow her tail to the longest in the underwater kingdom- an engaging mission that demands concentration, agility, and strategy.
The game requires you to navigate through dangerous obstacles on a quest to collect myriad color tails – each presenting their unique advantages. The thrill lies in maintaining the integrity of your tail, as one wrong move could lead to a severing moment! So, this isn't just about running; it's about survival in an enchantingly fierce aquatic world.
This captivating concoction of fast-paced action and delicate mermaid fantasy makes Mermaid's Tail Rush an excitingly paradoxical experience. As you progress through this demanding journey, your skills are challenged and honed simultaneously.
A standout aspect of Mermaid's Tail Rush is undoubtedly its superb graphics, which plunge gamers into an uncannily authentic underwater realm filled with wonders and dangers alike. Plus, the responsive controls make it effortless for players from all walks of life to join in on this riveting tail-growing escapade.
In conclusion, if you're seeking a refreshing spin on running games, skill games, or simply love a good mermaid game, don't let Mermaid's Tail Rush swim past you. It beautifully combines haste and grace into one vibrant gaming experience that would catch any arcade enthusiast hook, line, and sinker.
What are the best online games?