Mermaids Sauna Realife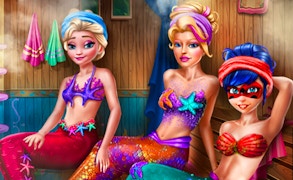 Mermaids Sauna Realife
Step into a world of underwater royalty and glitz with Mermaids Sauna Realife, one of the most engaging of the Games for Girls category. This imaginative gameplay swims right into the heart of every girl who has ever dreamt of a life under the sea as a beautiful mermaid princess.
The game is beautifully designed and invokes a sense of enchantment right from the start. It takes you on an exciting journey, where you become part of an extraordinary day in the life of mermaid princesses. After spending their day tirelessly swimming, these princesses love to unwind in their exclusive sauna.
Mermaids Sauna Realife splendidly integrates the theme of relaxation with an enthralling makeover adventure. As a player, you guide the princesses through their rejuvenating sauna session by removing any unwanted hair, applying moisturizing lotion and then joining them in the steam room. You could almost feel the warmth seep into your own skin as you pick colorful stones, sprinkle essential oils, and create lots of steam by adding water.
The game is also a huge nod to all dress up games. It's not just about lounging in saunas; it's also about channeling your inner fashionista. The game lets you dress up each mermaid princess in stunning outfits post their relaxation routine.
Mermaids Sauna Realife truly sets itself apart within its genre - Princess Games, with its unique premise – combining beauty routines with ultimate relaxation. Its appeal extends beyond just fans of mermaid games.
This game is more than recommended for girls who love experiencing royal makeovers while maintaining high levels of fun and creativity.
What are the best online games?