Mermaid Princesses Dress up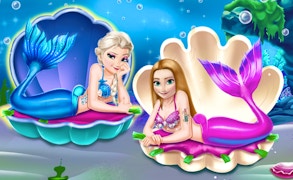 Mermaid Princesses Dress up
Dive into an enchanting underwater realm with Mermaid Princesses Dress Up, an absolute gem in the galaxy of mermaid games and princess games. This game is a veritable treasure chest for any young stylist.
The game opens with two radiant mermaid princesses, eagerly awaiting your unique fashion input. The first is a blonde beauty, sparkling with anticipation for her style transformation. With an incredible variety of ornate tops, rainbow-hued tails, and the coolest underwater tattoos, you're equipped with everything you need to glamorize this princess.
Once you've created a dazzling look for the blonde beauty, it's time to work your magic on the next mermaid princess. This princess comes with her own distinctive set of fashion items to mix and match. New chic hairstyles are also available for both princesses, allowing you to add a perfect finishing touch to their looks.
The aim here is simple – create extraordinary styles that will spark the admiration of the entire ocean kingdom! So summon your inner stylist and let your fashion expertise shine through in these captivating dress up games for girls.
Mermaid Princesses Dress Up delivers engaging gameplay combined with visually-pleasing graphics. The colors are vivid and inviting – perfectly mimicking the mystical murmurings of an underwater world. What makes this game truly stand out among other games for girls, however, is its interactive storyline that fosters creativity and imaginative play. A must-try gem for young sea-wannabes!
In conclusion, if you're after a creative escape into an enchanting underwater world where fashion reigns supreme, swoosh into this sparkling tide of fun offered by Mermaid Princesses Dress Up. This game sets a new high tide mark in the realm of interactive mermaid games, tailing right behind popular dress-up games and earns its rightful place as one of the best games for girls.
What are the best online games?