Mermaid Princess Pool Time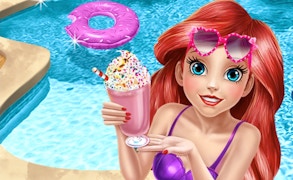 Mermaid Princess Pool Time
Step into the sparkling, azure world of Mermaid Princess Pool Time, one of the most enchanting mermaid games that immerses young gamers in an underwater wonderland. This game intricately weaves dress up games, splashes of fun pool time activities, and a captivating storyline around a mermaid princess, creating a unique gaming experience for kids.
If you're on the hunt for engaging Princess Games or appealing Games for Girls, Mermaid Princess Pool Time promises to be a pearl in the ocean! The game begins with your mermaid princess planning to spend an entire day by the pool. As her stylist and companion, your role is not just helping her dress up, but also ensuring she has a whale of a time at the pool.
The game brings together fashion and creativity at their interactive best. With an enormous range of options—from elegant flip flops and charming hats to adorable bathing suits—this is one of those dress up games that keeps you hooked on for hours. Beyond dress-up, this game adds more bubbles of joy by allowing players to choose refreshing drinks for the princess. Who knew pool time could be this fashionable and delightful?
The vibrant colors, easy controls, and engaging gameplay make Mermaid Princess Pool Time an absolute standout among mermaid games. And as you get to impress your princess with your fashion prowess in this game, you unknowingly end up enhancing your creativity too!
In a nutshell, if you want to dive into the fun-filled world of mermaids while stirring up your fashion skills, Mermaid Princess Pool Time will be your perfect underwater adventure! This delightful mix of dress-up and pool-time fun is all set to redefine what kids gaming experiences can be.
What are the best online games?