Mermaid Home Recovery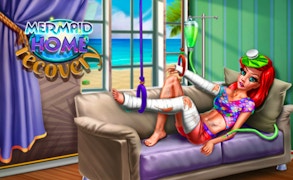 Mermaid Home Recovery
Dive into a world of oceanic adventures with Mermaid Home Recovery, an interactive and engaging addition to the realm of Games for Girls. This game uniquely merges the wonder of mermaid games with the practicality and excitement of operation games, ensuring fun-filled hours for your little ones.
This fantastical game ocean-sweeps you into an eventful storyline, lending immersive gameplay that keeps young players hooked. The protagonist is a mermaid princess who met with an unfortunate bike accident, and you, being the dedicated nurse, are tasked with her recovery journey. Right from positioning her comfortably to dealing with cumbersome casts, each task is a new challenge.
However, the game isn't just about nursing duties. More than that, it's about understanding the patient's needs and preferences. There's an element of learning responsibility as children are encouraged to feed the princess healthy fruits, play her favourite tunes, and most importantly—keep track of her medicine timings.
But what makes Mermaid Home Recovery truly stand out among other kids' games, is its distinctive feature allowing children to personalize the boring casts by drawing on them! This fosters creativity while breathing life into a typically mundane situation.
All in all, this beautifully crafted game brings together fun gameplay, interesting story arcs and important life lessons—making it more than just another mermaid themed play session. It's not just a game but a journey – a unique blend of fantasy and real-life scenarios with relatable tasks kids carry out every day in their lives.
If you're on the hunt for games that entertain while instilling valuable life skills in young ones—Mermaid Home Recovery is a choice par excellence in the sea of games available!
What are the best online games?