Mergis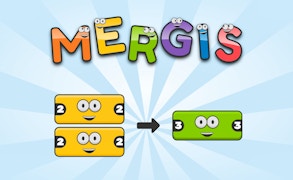 Mergis
Description
In the intriguing game Mergis, you will embark on a journey of matched numbers. Your mission is to release the Mergis in lanes so they can merge vertically when their numbers match. The game offers an intellectual challenge as you strategically calculate your moves, aiming to reach the highest possible score. A variety of power-ups are scattered throughout to assist you in your numeracy quest.
How to play
Playing Mergis is simple yet challenging. Choose a lane and release the Mergis. When two identical numbers meet, they merge into a larger one. The objective is to match as many Mergis as possible to reach high scores. Also, be on the lookout for power-ups - they can be game-changers!
Tips and Tricks
An essential tip is to always plan your moves. Just randomly releasing Mergis won't increase your score significantly. Look ahead and strategize where you will release next. Also, make sure to take advantage of the power-ups, they can help boost your score or get out of tricky situations.
Features
Endless gameplay with increasing challenges.
Numerous power-ups provide random boosts.
An innovative twist on traditional block and number games.
Crisp graphics and engaging mechanics.
A great way to exercise your brain while having fun!
What are the best online games?