Merge To Battle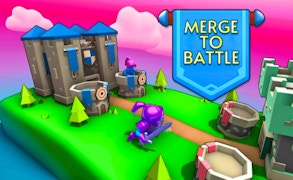 Merge To Battle
If you're a fan of action-packed, strategy-driven, battle games, then Merge to Battle needs to be on your radar. Packing a punch with its exhilarating blend of commanding knights, launching assaults on castles and strategic planning amongst chaos, this game is set to redefine the landscape of sword games.
In your path to glory in this real-time evolution strategy game, the objective is simple yet challenging - capture all the formidable castles obstructing your gallant knights. The architectural brilliance of these castles is as captivating as it is daunting – forcing you to strategize every move and yet bask in their aesthetic beauty.
'Merge to Battle' truly shines in its troop customization – adorn your knights in legendary armor and behold as they transform into an invincible fortress. The thrill of merging two units into a stronger one keeps the gameplay refreshing, ensuring that no two battles feel the same. This unique evolution mechanism sets 'Merge to Battle' apart from other knight games.
The game beckons you to harness your strategic prowess and relentlessly attack - not only for conquest but also for survival. As each enemy castle falls before your indomitable will, the addictive victory rush makes 'Merge to Battle' a difficult game to put down.
In conclusion, 'Merge to Battle' offers an adrenaline-fueled journey through strategic warfare and thrilling battles. If you're in search for knight games that test your capacity for tactical planning as much as they indulge your love for sword-wielding action, this game is indeed a perfect fit.
What are the best online games?