Mary Run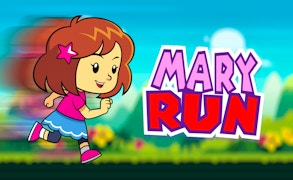 Mary Run
Description
Welcome to Mary Run, an enchanting endless runner game that takes you on a thrilling adventure through a mystical world. Dash against the lurking shadows, unearth hidden treasures and vanquish menacing foes to save the universe. You'll find yourself impeccably engaged with the challenging maps and ever-changing terrain. Collect countless coins to unlock powerful abilities and unearth secret strengths along your journey.
How to play
Gameplay in Mary Run is simple yet engaging. Use arrow keys or touch controls for navigation, jumping over obstacles and gaps. Coins are scattered throughout the game, collect as many as possible for important upgrades in abilities and powers. The more you play, the more immersive it gets with additional features getting unlocked over time.
Tips and Tricks
Patience is key in Mary Run. Watch for patterns in landscapes and enemy movements before you make a dash. Coins are crucial, aim to gather them wherever possible as they help enhance gaming experience by enabling valuable upgrades.
Features
Endless Runner Gameplay: Continuous running action with varied terrains provides endless entertainment.
Diverse Characters: Choice of three unique avatars each with distinctive characteristics.
Unlockable powers: Accumulate coins to unlock new abilities and secret strengths enhancing gaming experience.
Rewards for Longer Play: The more time spent exploring the game, the more rewarding it becomes with additional features being unlocked.
What are the best online games?