Mandala Coloring Book Game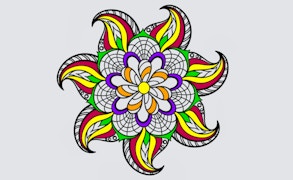 Mandala Coloring Book Game
For fans of coloring games, drawing games, and family games,, the Mandala Coloring Book Game is a breath of fresh air in an otherwise chaotic world. It's not just a game - it's an oasis of tranquility tucked conveniently into your device, ready to transport you to a realm of peace and creativity whenever the frenzy of life becomes too much.
The attraction towards the Mandala Coloring Book Game is its simplicity wrapped in vibrant shades. From children to adults, fans of coloring and drawing will find this game to be a polished gem in the puzzle genre. The design is stunning and intricate, with Mandalas that range from simple designs for beginners to complex pieces that challenge even the seasoned coloring veterans.
Every groove, every pattern crafted with intention, each mandala invites you into a meditative experience that strums away daily stresses. You are not just playing another family game; you're engaged in a mindful exercise known for its therapeutic benefits.
The color palette available is diverse and extensive enough to satisfy any artistic appetite. From warm hues that evoke sunrises to cool ones reminiscent of deep seas; you have a world full of colors at your disposal. You can get wild and explorative, or maintain an aesthetic balance - the choice is yours.
In conclusion, the exceptional Mandala Coloring Book Game does not just cater to fans of coloring or drawing games; it offers an immersive experience that can reduce stress, inspire creativity, and provide hours of unending fun for everyone in the family. So why wait? Grab that digital paintbrush and begin your journey into serenity today!
What are the best online games?