Magic Piano Tiles Game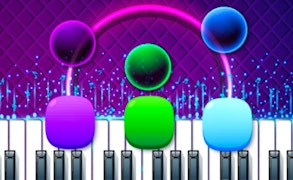 Magic Piano Tiles Game
If you're a fan of piano games or music games, prepare to have your senses delighted with the addictive nature of Magic Piano Tiles Game. This hyper-casual game is about to raise the standard in the arcade genre.
As a lover of piano games, you'll instantly be drawn into Magic Piano Tiles' simple, yet captivating gameplay. Your goal? Tap each tile at that precise moment it aligns with its target. The concept might sound easy, but the execution is where everything becomes thrillingly challenging and fun.
Imagine yourself as a concert pianist, fingers flying over the keys while creating beautiful melodies. That's essentially what you're doing with Magic Piano Tiles - only digitally. And this aspect makes this piano game even more appealing.
Adding to its allure is the rich variety of songs and rhythms within the game - 12 impeccably composed tunes that range from tranquil to swift tempos. Each rhythm feels like a different chapter in a book, allowing for an amazing auditory experience that blends seamlessly into your gameplay.
A distinct feature that positions Magic Piano Tiles Game ahead of other music games is its immersive quality. It doesn't just satisfy your gaming appetite but also caters wonderfully to your love for music.
In conclusion, if you're searching for something more than just another game in the predominantly overcrowded world of Hyper Casual Games, then Magic Piano Tiles Game is definitely worth your consideration.
Play it for the challenge, stay for the entrancing melodies and rhythms. Tap into your musical prowess and lose yourself in this splendid symphony of arcade gaming!
What are the best online games?