Lucky Looter Game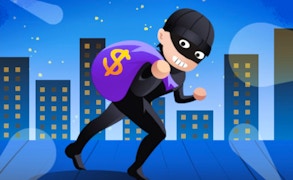 Lucky Looter Game
Immerse yourself in the thrilling and captivating underworld of Lucky Looter, a unique 3D stealth game that impeccably combines elements of police games and gangster games. It stands out as a superb entry into the genre of Hyper Casual Games, offering a heart-pounding experience that requires cunning and patience.
Lucky Looter engrosses players in its intensely detailed environment filled with numerous challenges, making it an equally engaging and entertaining option for seasoned gamers and novices alike. The game's difficulty increases progressively, with new levels introducing more complex sight ranges to navigate. This strategic progression keeps the tension high, pulling you deeper into its labyrinthine universe.
Each level is a maze of sight ranges that require meticulous planning and stealthy manoeuvres to outwit. As a player, you must exhibit extraordinary patience and tactical thinking while entering or exiting these zones. The stakes are always high, keeping you on your toes at every moment in this edge-of-your-seat adventure.
The core objective of Lucky Looter is to steal treasures while slipping past the watchful eyes of guards undetected. It lends an indisputable allure to this already intriguing concept, rendering it as one among the most addictive police games in recent times.
In conclusion, Lucky Looter is a sure-shot winner for fans of hyper-casual police games, gangster games, or anyone after something a little different in their gaming repertoire. It's challenging yet delightful, combining meticulous strategy with covert action. If adrenaline-rushing stealth missions amidst 3D environments are your forte, then Lucky Looter is surely not to be missed!
What are the best online games?