Lucky Looter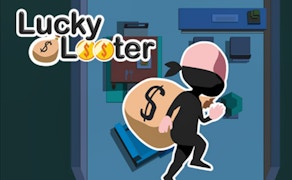 Lucky Looter
Immerse yourself into a thrilling world of stealth and strategy with Lucky Looter, a standout addition to the adventure genre of Hyper Casual Games. As a refreshing take on police games and gangster games, Lucky Looter offers an adrenaline-fueled journey through the underworld, putting you in the shoes of a skilled thief tasked with outsmarting patrols and securing valuable treasures.
The game aggressively pulls you into its realm with its swift pacing, engrossing storyline, and distinctive gameplay mechanics. The concept is simple yet addictive; to be quick, be sneaky, and grab as much loot as possible while dodging vigilant patrols. But mind you, it's not as easy as it sounds. Each level brings increased complexity and more cunning officers trying to stop your reign as the king of thieves.
Lucky Looter doesn't shy away from blending genres, offering an exhilarating mixture of police games thrill with the strategic demands of classic gangster games. The controls are precisely fine-tuned for intuitive usage, ensuring that players can focus entirely on planning their next heist rather than struggling with awkward maneuvering.
Each successfully accomplished mission feels rewarding in Lucky Looter – the satisfaction of outsmarting your opponents in this captivating cat-and-mouse chase is unparalleled. But the real charm lies in its hyper-casual nature. This game doesn't demand hours at a stretch. A quick looting spree during your coffee break or some sneaky theft before bedtime – this game fits perfectly into your routine.
Come join us in this adventurous odyssey where looting is fun and escaping is even better! Experience being an elusive thief – dodging patrols, preparing heists, and becoming the undisputed king of thieves in the captivating world of Lucky Looter.
What are the best online games?