Lovers Shopping Day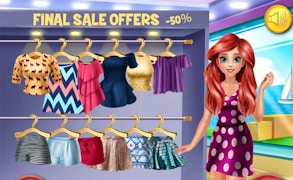 Lovers Shopping Day
Step into the brightly colored and fantastical world of Lovers Shopping Day, a delightful online game that sits squarely at the intersection of games for girls, dress up games, fashion games, and even throws in a dash of mermaid games. This vibrant virtual platform is an inclusive space where budding fashionistas can express their creativity and style.
A shopping spree is on the cards as two young lovebirds meet at the mall for a wardrobe refresh. The game invites you to be their trusted fashion advisor, tasking you with selecting standout outfits that will make them both shine. Here's where the fashion game aspects come into play, providing you with a plethora of fashionable items to choose from.
The girl can't wait to see what stylish concoction you'll create for her. Will it be a classic dress or perhaps a chic combination of skirt and blouse? The options are endless, leading to hours of engaging gameplay perfect for those with an eye for fashion. The boy's outfit also falls under your purview, presenting another opportunity to showcase your style prowess. Let's make sure his girlfriend will be dazzled by his look! Your stylist skills are challenged in this couple-orientated dress up game.
The gameplay is smooth, uncomplicated, and loads of fun - perfect for girls who love dress-up and fashion games. Every item you select brings your couple one step closer to being the best-dressed visitors in the mall! Lovers Shopping Day joyfully blends elements from Games for Girls, Fashion Games, and Mermaid Games into an exciting fusion that guarantees to spark the imagination and keep players coming back for more.
This game truly shines as an exciting realm where fashion dreams come alive. Ample options and endless combinations position Lovers Shopping Day as an addictive addition to any dress-up games collection. It's time to join this cute couple at the mall – they're counting on your help!
What are the best online games?